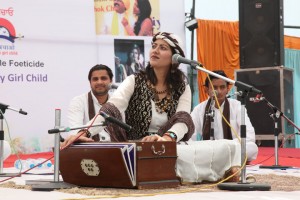 Dr. Mamta Joshi, a Sufi singer with a Ph.D. in music, contacted me through FaceBook after listening to my poem "Umber Di Shehzadi: To the Princess of the Skies" set to images and my voice on the you tube. She is a young woman with a lot of passion and tremendous talent. She wanted to sing my poem at her upcoming concert in Surrey, Canada on October 10, 2010.  As many of you know, I have no classical training in singing, so I am very excited to see, how Dr. Mamta Joshi brings out the soul of a poem I wrote 41 years ago, with Sufi Music.
I am constantly amazed at just how small the world keeps getting. I wrote "Umber Di Shehzadi" 41 years ago, when I guess the world was still too large and communication not so fast. The poem was published in Punjabi magazines and newspapers and I sang it amongst friends, certain party gatherings and local functions. It was only recently when my son Navdeep Singh Dhillon, a NYC based writer and English instructor, helped me to modernize the poem by creating Moving Images: setting the original poetry to images and my voice (as well as translating it into English), which we then posted on the you tube (subscribe to my you tube channel)
Although I received numerous phone calls, emails, as well as wonderful comments on the you tube worldwide, the world really started to get smaller when this happened:  Devinder Singh Saroya, Director North Zone Cultural Center (NZCC), Ministry of Culture Government of India, who shares an interest in other cultures, art, lalit kala, human rights, and happens to be from the same area of India I am from, found me because of this you tube video. He wrote this on my face book a couple months ago, "It is a pleasant surprise that human beings like S. Pashaura Singh Dhillon with such pious feelings and universal appeal can be found on Planet Earth in our times! Discovered him today from the page of an intellectual who in turn was found by sheer chance after two decades… "(Courtesy FB Suggestions).
And somehow, Mamta Joshi, the rising Sufi Maestro herself came to know of it. I still don't know how she found me. I was logged onto face book one day and Dr. Mamta Joshi got hold of me in the chat box one night, a place I didn't know even existed before she approached me to chat! During the conversation, she told me that she had watched my poem on the you tube and hadn't seen anything like it before. "The poetry is so close to my heart," she said before asking if she could have my permission to sing "Umber Di Shehzadi" with classical taans for her forthcoming concert in Canada."  I am very selective sharing my poetry, but for some reason, I immediately gave Mamta Joshi permission. Perhaps it was her enthusiasm or the way she spoke about music and poetry that gave me the confidence to let her have a go at a poem I have held in my heart for over 40 years.  I was immediately impressed and even more confident of my decision as soon as I heard her sing on the youtube. In addition to videos on you tube,  she has performed at venues all over India and abroad, with many articles written about her in various newspapers.
SD Sharma, a reporter for the Chandigarh Tribune writes about Mamta Joshi, a young lady passionate and learned in Sufi music. He writes, "Blissfully unaware of the lyrical connotations and deep philosophical and spiritual content of songs, child prodigy Mamta preferred to sing Heer Waris or the utterances of Bulleh Shah and other Sufi saints while her class mates relished popular filmy songs at her school functions at Jalalabad in Punjab. As ordained, Mamta kept achieving excellence in the realm of folk, classical and sufi  music in academics and performances. She was rightly hailed as a golden girl at the GNDU (Guru Nanak Dev University, Amritsar), winning six gold and silver medals each in various national music competitions. She also won the HRD (Human Resource Development) ministry (Govt. of India) scholarship of Rs. 50,000."
In addition to holding a doctorate in Indian classical and vocal music, she also has a gold medal in her MA (Music) and a silver medal in MA (Kathak dance). SD Sharma continues, "Mamta Joshi emerged as a female sufi singer of eminence. After hearing her, acclaimed sufi maestros Wadali brothers Padamshri Puran Chand and Pyare Lal blessed and extolled in their inimitable style saying 'If Pakistan has Abida Praveen, we have Mamta Joshi to emulate after she attains that age and experience.' The prophecy proved true as Mamta Joshi became the first Indian female sufi singer to give solo performance of Sufiana qalams at the India Nehru Centre, London in June 2006. She repeated her tradition of excellence to perform at the prestigious Queen Elizabeth Hall later. Earlier, as student artiste she toured UK under Heritage cultural exchange programme giving live performances in Glasgow, Wales, Chester, Cardiff, and Ludlow Castle in 2003 . "The exposure was a good learning experience. I remember that my recital of ornate sufi poetry enlivened the Shiv Kumar Nite at Birmingham in Septmber of 2008," claims Mamta. Decorated with prestigious awards by legends like Yash Chopra, Subhash Ghai, Amrish Puri and Indian High Commissioner in London, Mamta still has her feet firmly rooted to the ground. Mamta owes all the credit to her guru Arun Mishra ji for imparting the best nuances of music and DS Saroya for her promotion in the realm of musical arts".
And now Dr. Mamta Joshi is going to pay a tribute to "Umber Di Shehzadi" after 41 years of waiting, bringing out its grandeur and soul with Sufi Music. Her first concert is scheduled in Surrey, Canada on October 10, 2010. Mamta wants me to be there so that she and her husband Chetan could meet me and ask how I decided to write 'Umber di Shehzadi.' I am still debating if I should cross the Canadian border!