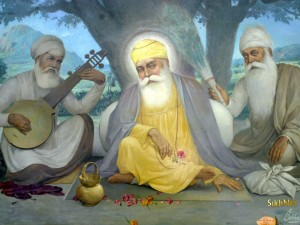 Happy Vaisakhi and Pagdi Divs to you all!
I dedicate this blog post on ' Vaisakhi and Pagdi Divs' to a gentleman and a scholar: Professor Atamjit Singh, who did a commendable job understanding unity in diversity by spreading not just Sikh awareness, but a new zeal for studying Gurmukhi, as a means of understanding the message better amongst university students all over California (U.S.A.). He sadly passed away in 2010, and although he is missed, he will never be forgotten, especially in the Bay area and the Central Valley of California.
Professor Atamjit Singh taught Punjabi language at the San Jose State University's Department of World Languages for many years and was instrumental in designing their program to systematically teach it, making it accessible not just to those who already knew some Punjabi, but to complete beginners, as well as intermediate and advanced students. At the request of the Sikh Council of Central California, Professor Atamjit Singh also had the courage, capacity, dedication, and above all the humility to teach the beginners level class 200 miles away in Fresno in the central valley, California several years ago.
One of the beneficiaries of that beginner's course in Fresno was my son Navdeep Singh Dhillon, who never had any formal classes before or since this one semester. Navdeep currently teaches English literature and Creative writing at the School of Visual Arts in New york, and is now not only able to read and write Punjabi (Gurmukhi) but also is able to help his two year old daughter Kavya to learn the basics in Punjabi as she goes to an English only speaking nursery school. Check out his blog post on raising bilingual and multilingual babies: http://thelangarhall.com/general/strategies-for-raising-multilingual-and-bilingual-babies/
A few years back when Professor Atamjit Singh was teaching at San Jose State University for the benefit of his majority non-Sikh American students, he requested me to make a live presentation at the University of my video 'Pagg di Saanjh': A Tribute to the Sikh Turban, which he had found on youtube. I, of course, gladly accepted, and I sang my Punjabi poem, with images from Sikh history, and translated into English in subtitles. The poem attempted to contextualize the significance of the Sikh turban, and it was  greatly appreciated by the Dean, the Head of the Department, and the students and the staff alike.
Here is the moving image slideshow of my poem with English subtitles for you to watch and share with whoever you think will benefit from the message. As always, I will greatly appreciate your thoughts on this by leaving a comment here or at my facebook: