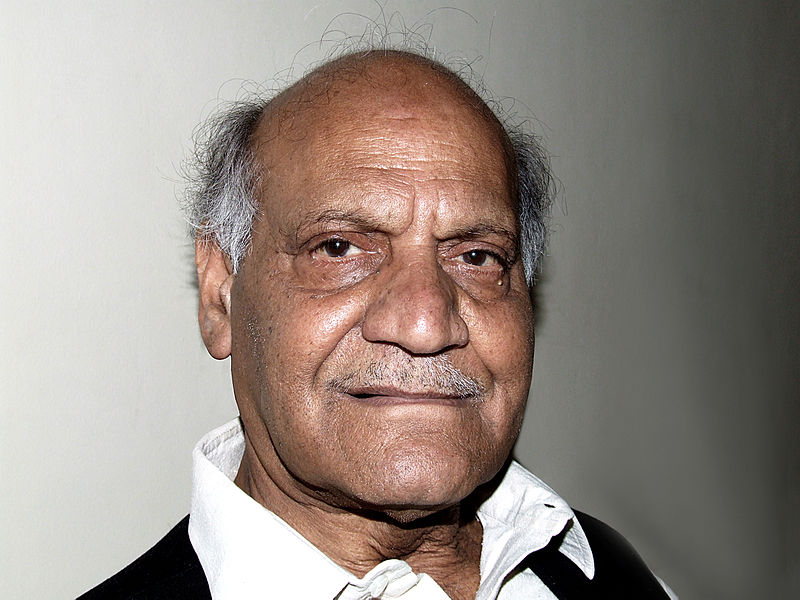 Many people think about Pakistani poet and singer, Anwar Masood as a very humorous poet and I must admit the first poem of his I heard, "Lassi te Cha," I initially thought was really funny, but he so skillfully weaved the poem to be about very deep and dark societal issues of caste and privilege. He is a poet that has the rare gift of being able to take a very serious subject and make it light and entertaining. His background is also very interesting to me because although he has a Masters degree in Persian from Oriental College in Lahore and has written poems in Urdu and Persian, he is mainly known for his Punjabi poetry that cuts to the bone.
He made hijrat to Lahore, not across the border but back and forth from Gujarat in Pakistan. His poetry is in Punjabi I really like not only because of how he sings it, but because they always involves Punjabi culture and tradition, often things that either don't exist or may very well be extinct in the coming years.
He wrote a deeply moving poem about mothers that was so rhythmic. Writing about mothers is the most emotional for us humans and other living creatures alike. Anwar Masood's Punjabi poem titled as ' Maa Di Shan' is the one which makes me cry every time I watch this  video clip with Noor Ul Hassan's introduction in the 'Visale Yaar' presentation.
It is a very happy feeling to see that a Punjabi poet is able to draw in the crowds and write meaningful poetry as receives standing ovations from men and women, old and young when he reads or sings his poetry. There is little doubt why he is immensely popular in Pakistan and I hope his fame extends to India and more! One of my Pakistani friends tells me that Anwar Masood is perhaps the only well known Punjabi poet in Pakistan where Urdu poetry is systematically promoted, who stands shoulder to shoulder if not taller than Urdu poets in terms of popularity in Pakistan especially in Punjab. He uses metaphors that you wouldn't think a learned scholar would use that he easily taps into what makes us all connect as human beings: banyan, chah, lassi (undershirt, desi tea, lassi is lassi). He uses these metaphors to press some red-hot buttons in a very poetic way.
Do you have a favorite poet, whose words you find moving? Who is your Anwar Masood?