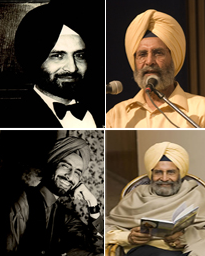 I am a Punjabi poet, singer, and an active blogger at over 70 years old. I am no Fauja Singh, but what he can do in real life, I can do behind a computer! This blog is a place for me to share my thoughts on books of poetry I like, my own poetry, and to introduce you to Punjabi poets, including poetry from the Ghadrites. I have written a collection of poetry that you can download and read, ongoing music slideshows set to my voice, and audio music that is also available for free download. My poems and articles have been published in magazines in the United States, Canada, and India.
While I have spent more than half of my life living outside of Punjab, in five continents and several countries, in places like the United Kingdom, Tanzania, Nigeria, the U.A.E., and the United States, I am still very much connected to the Punjabi language. I can't imagine writing my poems in any other language, and it is the only language I truly feel comfortable expressing myself in poetry. There is a certain beauty in my mother-tongue that no translation can fully capture.
My hope is that through this blog, I will be able to engage in an active discussion with not only my generation, but the younger generation on many of the issues prevalent in my poems and things I talk about regularly on KBIF-900AM: Punjab News and Views, a weekly radio show that I co-host. Issues such as social inequality, Sikhism, religion, politics, language and culture, amongst others.
Growing Up
While I have lived outside of India for over forty years, Punjab is at the heart of my poetry. I write and sing about things that matter to me like human rights, the environment, Sikh philosophy and poems which motivate people to think and create change for a better tomorrow.
I was born in District Lahore in what is now Pakistan. At the age of 7, during partition in 1947, my family and I joined other countless families who left everything behind and walked across the new dividing line at Wagah Border overnight into India. We came across the border to village Bhakna, District Amritsar where our family stayed with a close relative, Baba Sohan Singh Bhakna, who became one of the biggest influences in my life. He was a well known freedom fighter and founder of the Gadar Party. I grew up in Bhakna where I attended Janta High School – the first co-educational school in the area -also founded by Baba Sohan Singh Bhakna. I heard the true stories of the heroic freedom struggle and the sacrifices made by the Gadar Party straight from the horse's mouth, so to speak. I also learned about their disappointments and betrayal by our own government after Independence.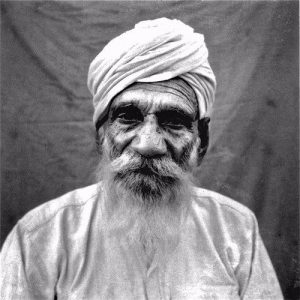 Before children started spending their free time watching cable television and playing videogames, there was magic. And for me that magic was poetry. Babaji's wife was my grandfather's sister and we affectionately called her "Wade Bhuaji." In the evenings, along with Babaji and Wade Bhuaji, all of my cousins, brothers, sisters and on many occasions, children from the neighboring villages who also attended the co-educational Janta High school would join us in the open-air courtyard at our house. We would take turns passing around the progressive magazines like Preet Larhi which still retains as much integrity today as it did back then. It published finely polished prose and poetry about social issues which most magazines are still afraid to touch today like poverty, corruption, inequality, injustice and sexual discrimination.
Wooden cots with mosquito nets were laid out, side by side in the open courtyard and we would take turns singing poems from magazines. Creating tunes on the spot was something that came very easily to me and I would always try to convey the emotion Ghadri poets penned down in their patriotic poetry apart from other famous poets such as Amrita Pritam, Professor Mohan Singh, Bhai Vir Singh and Puran Singh amongst many others put into the poems I was singing. Someone once said, "We are born as poets from a wound that is inflicted upon us by other poets' poetry." And at some point I had that wound.
I wrote my very first poem 'Rooh Mere Punjab Di' for the maiden Rose Festival celebrated in Chandigarh in April, 1968 and won special appreciation from Dr. M.S. Randhawa, the then Chief Commissioner of Chandigarh. The poem personified Chandigarh envisioned in human form by Lee Corbusier, as a wonder girl who at the age of sixteen was blossoming into a young woman. The poem describes her unparalleled breathtaking beauty, vibrant youthfulness, exuberance and spirited promise for the land of five rivers, Punjab. Blessed and protected from the evil eye by the great Himalayas, bathed in Sukhna Lake, the poem describes her decadent adornments as being made entirely of unique landcape plant material used to beautify Chandigarh. After graduating from Khalsa College, Amritsar majoring in Horticulture, I started my first job as Horticultural Inspector at the picturesque Moughal Gardens in Pinjore and then with the capital project, Chandigarh.
Leaving India
I made the decision to leave India and travelled to England for financial reasons. Being the eldest in the family and determined to help educate my siblings, I decided to pursue higher education in England. With three pounds to my name, I worked back breaking hours at various factories during the day and in the evenings commuted to London via subway to study an intensive Masters Degree program at the prestigious Landscape Institute, London. During this struggle, I was offered a job as a landscape assistant with Derek Lovejoy & Partners, one of the most distinguished International landscape consultants in England where I continued to work after graduation as a landscape architect. I returned to India and married Inderbir Dhillon in 1972. For better educational opportunities for our children, Navreet and Navdeep, we moved to the United States in 1992 where Inderbir proved that it's never too late to go back to school and is currently a Licensed Vocational Nurse. I fell back on my first love of horticulture and worked as an Agricultural Biologist for the County of Fresno before retiring in 2006. Now I spend my time using my horticultural and landscaping skills in my own garden as well as writing, recording and sharing my experiences of life through my poetry.
Community Involvement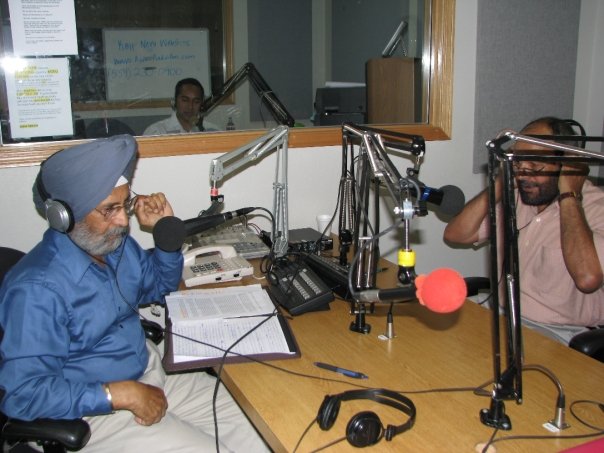 Actively involved in community matters, I was a co-host for Punjab News and Views for several years, where I talked about everything from landscape design to the promotion of Punjabi language, literature, and culture. Also along with other members, I have helped in forming the Sikh Council of Central California Fresno, the Punjabi Sahit Sabha California, and the Indo-US Heritage Association in Fresno, California. I take great interest in helping to organize events such as Interfaith Alliance functions, literary meetings as well as events close to my heart such as commemorating functions in the fond memory of the Gadhri Babas and other freedom fighters who laid down their lives to free India. As General Secretary for the Sikh Council of Central California, we helped raise over $50,000 during the 9/11 Disaster Relief fundraisers. A few years back, as a representative of the Sikh Council of Central California, I helped to coordinate a fundraiser for the Guru Nanak Heritage Institute for Punjabi Studies in San Jose where the local community has established a Punjabi language and cultural studies program for the past many years at San Jose State University. A similar effort is also in the process to start up a Punjabi language and cultural studies program in the Central Valley at the California State University, Fresno.
Although Punjabis, especially Sikhs, have been in California for more than a century, there is no mention of Sikhs in the California History, or Social-Science syllabus books read in public schools. This has caused an identity crisis especially after the 9/1 I national tragedy when numerous Sikhs were brutally attacked and murdered mistaken for someone they were not. As a member of the Sikh Council of Central California, Coordinator responsible for Education and Awareness , I am working very closely with Dr. Onkar S Bindra of Sacramento and others to include Sikhi in the revised curriculum Framework of History-Social Science in California Public Schools.
Professional Experience
Working on the United Nations funded projects took my family and I on a whirlwind adventure through Europe, Africa, and the Middle East. I worked with the U.N. team as a landscape architect involved in designing and developing Dodoma, the new capital city of Tanzania in East Africa. I also served as a resident landscape architect for five years where my responsibilities included the landscape design of the presidential complex in Abuja, the new capital city of Nigeria, West Africa. From 1987 to 1992, I worked as a Senior Landscape Architect with the Dubai Municipality in the United Arab Emirates. As a Technical Advisor to the Director of the Planning Department, Abdullah-Al-Ghaith, I was responsible for coordinating major and now internationally reknowned parks such as Jumeira Beach Park, Dubai Creekside Park, Deira Cornish and Al-mamzar Park.