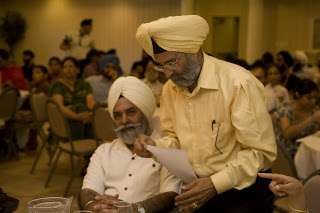 I was invited to share a poem I wrote at the closing banquet of Jakara Movement. Jakara began in 2000 with a mission to call the next generation of Sikhs from all places, backgrounds and points of view to reflect on their past and prepare for the future. In 2009, they came together as the next generation of Sikhs to continue the process of empowering, engaging , and educating the Sikh community.
They came together to commemorate the 1984 government attack on the Golden Temple Complex, and the "riots" in Delhi. At the same time and in another country, there were a series of seminars and papers being presented by other Sikh scholars at the University of Ottawa and elsewhere in Canada.
Without its meaningful closure, where a deliberate genocide of the Sikhs by another community was portrayed and allowed to be passed as a simple riot, this is how painful its legacy still is even after 25 years of its happening. A well known Psychologist Sudhir Kakkar described the 1984 attack on the Golden Temple Complex as a 'Great Shock' to the Sikh psyche. A Great Shock as he describes it may be summarized as a major happening which reminds one section of people the helplessness against the atrocities committed in a selective way by another. The psychological impact of this Great Shock impinges on the collective identity of that section and that Great Shock comes alive again and again. In spite of all these atrocities and excesses, the memories of preserving and reasserting itself in such difficult times, fosters kinship and makes that section stronger. This is what I saw that day in Jakara at Fresno and also as being reported from Canada and elsewhere, wherever the Sikhs reside in the new global community.
I thought that 9/11 and its aftermath was telling humanity that big or small, a sword alone cannot protect you in this day and age. September 11, 2001 took place in New York, and 10,000 miles away Operation Blue Star happened in Amritsar, 1984. These tragedies are not restricted to any specific nation, religion, or ethnicity. Although in different countries, in different contexts and at different times, at their core, these are human rights issues. These are common issues.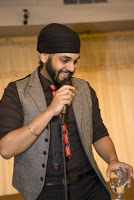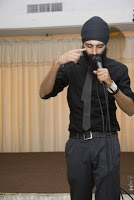 Kanwar Anit Singh Saini (Sikh Knowledge) and Kanwar Singh (Humble the Poet), two Canadian rappers and participants of 2009's Jakara said it best. "1984 is all around us. It is happening in Rwanda. It is happening in Palestine. We should try to find connections with people who are also victims because then the minority becomes the majority."
But I was not there to repeat what had already been reported or was going to be reported on this subject. As a poet I wanted to invite them to a different plane, whereby they not only take the message of what happened to the Sikhs 25 years ago but also what is happening all around the world today and how it relates to us all. A big picture where these compounded atrocities and excesses not only of humans on humans that are happening everyday but also collectively of humans on this planet Earth, which threatens its very survival. The victim of human's inhumanity the Earth pleads with the princess of the Skies whose domain the fugitive from Earth is now so impatient to intrude. Without further adieu, here is "Umber Di Shehzadi De Naa: To the Princess of the Skies" :