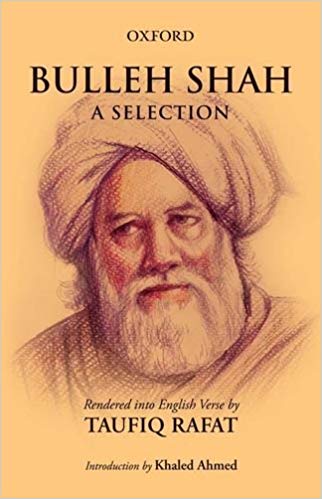 There are, of course, many poets in Punjabi, Hindi, Urdu, and English who I have read and been influenced by in some way over the years, but these eleven poets are perhaps the reason I am even a poet today. Their beautiful verses touched my soul from a very young age and helped me make sense of post-partition Punjab, as well as the world around me. It has taken me around 60 years to feel comfortable enough to pay homage to my all time favorite Punjabi poet, Waris Shah. This is my rendition of one part of his epic tragic love story,"Heer." This particular scene is when Ranjha makes the difficult decision to leave Takhat Hazara.
Classic Punjabi Poets
Sultan Bahu (1628-1691) wrote in Punjabi and the Persian language, but is much more well known for his Punjabi poetry. What separates him from many other poets of his time (and indeed of any time) is that his verses are sung in a variety of genres associated with Sufi music.
Bulleh Shah (1680–1757) was a Sufi poet most famous for his Kafis or short poems of about six stanzas. This style of poetry was also used by Sikh Gurus, as well as Sufis. What really appealed to me about Bulleh Shah was that he was a preacher at a local mosque, and yet was unafraid to write very powerful poetry criticizing elements of the way Islam was practiced during his time.
Ali Haider (1690-1785), not to be confused with the former Pakistani pop singer, was also a Sufi poet. Although recognized for his achievements within his lifetime, he spent most of his life in his village in Multan. He wrote  five Siharfis, one Baramaha, and an incomplete Kisa of Heer-Ranjha. He is most well known for his Siharfis, which are poems of 30 stanzas each beginning with a letter of the Persian alphabet. As a scholar of Persian and Arabic, he drew many metaphors and similes, as well as some vocabulary from the Persian language.
Waris Shah (1722–1798) is one of my favorite poets. He, is most well known for his rendition of the traditional folktale, "Heer-Ranjha." His epic poem tells the tale of the tragic love story between them with very sad, but beautiful lyrics.
There are contemporary poets who also had a tremendous influence on me, but keep in mind, I am 71 years old, so my definition of contemporary may be a little different than yours! Growing up in Bhakna, Punjab, I still remember reading the progressive magazine, Preet Lahri, while singing lines from these poets under the tutelage of Baba Sohan Singh Bhakna, the founder of the Ghadr Party, who was like a grandfather to me. These contemporary poets included Amrita Pritam, Professor Mohan Singh, Bhai Veer Singh, Dhani Ram Chatrik, Baba Nazmi, Dr. Jagtar (formerly Jagtar Papiha), and Shiv Kumar Batalvi, who I was privileged to share the stage with in intimate performances in Southall, England during the early 1970s.